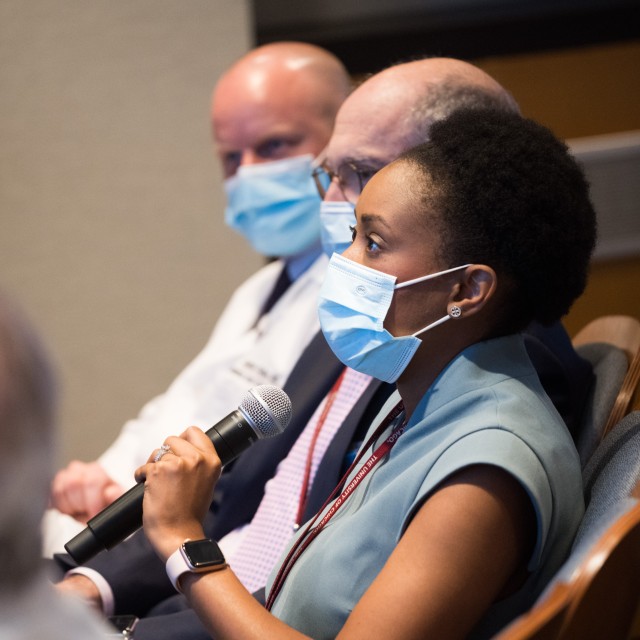 Diversity, Equity, and Inclusion
Mission: The University of Chicago Department of Surgery Diversity, Equity, and Inclusion (DEI) Steering Committee is committed to addressing and eliminating discrimination in all forms within our department through continuous self-assessment, targeted programming, advocacy, and creation of an increasingly diverse and culturally competent workforce by embedding diversity and inclusion as an integral component of surgical excellence.
In doing so, we aim to remove barriers to healthcare access, to provide the best care for our community, and to create an optimal and equitable environment to work, conduct research, and train.
View our Surgical Excellence in Action gallery.
DEI Steering Committee Leadership
Upcoming Events:
"TRANS" Screening & Grand Rounds Discussion, July 6th, 2022, 7:45AM - Grand Rounds on Wednesday, July 6th will be a panel discussion surrounding the film "TRANS" which will take place in Conference Room G-217 and via Zoom. Please make every effort to attend in person for this special event. 
 
Q1 Departmental Faculty Meeting, July 13th, 2022, 7:15AM - Dr. Dorsey will provide DEI updates for the year. Drs. Roggin/Reid will give an overview of the new Ulysses Grant Dailey Society mentorship program, and Drs. Faris/ Donington will announce the Women Surgeons Committee 2022 awards/honors. Please try to tune in!
Ongoing Events:
UCM Wellness Series, hosted by the Department of Psychiatry and Behavioral Neuroscience - Information here on virtual wellness programming
NEW EPISODE!! Deep Cuts: Exploring Equity in Surgery Podcast Feat. Drs. Michael Millis and Brian Williams - Please listen and share! New resident led podcast discussing disparities related to the patient populations we serve. More details listed below, looking for members of the Department of Surgery, especially faculty with topics for episodes and interested in participating. Please reach out to Jen Vigneswaran, Janani.vigneswaran@uchospitals.edu
 
Representation Matters: Recruitment and Retention of URM to Vascular Surgery - A podcast episode featuring Dr. Chelsea Dorsey
A Medical Student's Story of Racism and Bias
A Sense of Belonging

A graphic story in NEJM about our DIO, Anita Blanchard, MD

The Trump Administration's Racial Bias

by Brian Williams, MD, Associate Professor of Surgery

Brian Williams, MD on CNN talking with Don Lemon about racial disparities and COVID-19
The BSD Diversity & Inclusion Office's Autumn Mini-Institute

Moving Forward by Looking Back: The Coupling of African American History and our Work in Science and Medicine

Systemic Racism in America and the Call to Action

by Stephen Estime, MD, & Brian Williams, MD

The Macy Foundation's supplement on Addressing Harmful Bias and Eliminating Discrimination in Health Professions Learning Environments is now live on the Academic Medicine website, featuring articles by UChicago Pritzker and BSD colleagues.
UCM Wellness Series, hosted by the Department of Psychiatry and Behavioral Neuroscience

Information here on virtual wellness programming

Read our statement on President Trump's recent Executive Order (EO) on Combating Race and Sex Stereotyping released Sept. 22, 2020. If you are a UChicago DOS employee and want to add your name to the form, you may email us.
Along with the Departments of Medicine, Pediatrics, and Orthopedic Surgery, the Department of Surgery is proud to participate in the Pritzker School of Medicine's Underrepresented in Medicine Visiting Clerkship Program. The program is sponsored through the generous support of Peggy A. Montes, a former IL public school system teacher, co-founder of Bronzeville Children's Museum, and longtime Chicago/Cook County civic leader.
While the Visiting Clerkship Program is suspended indefinitely due to COVID-19, the initiative is aimed at fourth-year medical students from groups who have been traditionally underrepresented in US medical schools – Black/African American, Mexican-American, Native American (American Indian, Alaskan Native, and Native Hawaiians), Puerto Ricans, and Asians (specifically Hmong, Vietnamese, Laotian, and Filipino) who are in good standing at LCME-accredited US medical school. Our department will match visiting students with a resident and assign a faculty advisor for support, networking and mentorship.
Students apply through VSAS and complete a Pritzker-specific supplemental application. The program will pay a $2,000 stipend to students for supporting costs associated with participation at the end of the rotation.
Please use the link above to check on the status of the program as the pandemic develops.
Learn more about where people in our department volunteer.
Ombuds Program
The DEI Steering Committee has officially launched an "Ombuddies" program, which provides faculty and staff with the opportunity to communicate candidly with a select group of surgical leaders to address positive or negative experiences within the Department. Anyone can reach out if they have questions, comments, or just need a sounding board to discuss an issue.
Julian T. Owens

Department of Surgery Core Operations Manager

Chelsea Dorsey, MD

Associate Professor, Vascular Surgery, Vice Chair of DEI

Peter Angelos,, MD, PhD

Professor, General Surgery, Vice Chair for Ethics, Wellness, and Professional Development

Yalini Vigneswaran, MD, MS

Assistant Professor, General Surgery

Carmelle Romain, MD

Assistant Professor, Pediatric Surgery

Amanda Hasseltine, APN

Nurse Practitioner, Vascular Surgery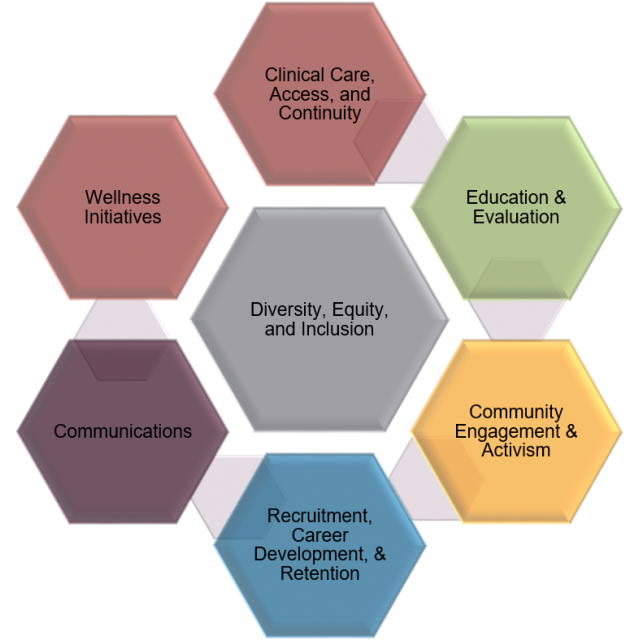 Our Work
The DEI Steering Committee oversees our commitment to this mission through six domains that are integrated into our everyday work:
Clinical Care, Access, and Continuity: Providing equitable care and integrating social determinants of health into our practice
Communications: Highlighting our commitment to diversity, equity, and inclusion through formal and informal communications and celebrating our accomplishments within the work environment
Community Engagement and Activism: Building trust with members of our community and advocating for change
Education and Evaluation: Upgrading our curricula for trainees, faculty, and staff, addressing bias in recruitment and evaluation, and teaching anti-racism
Hiring, Career Development, and Promotion: Recruiting diverse clinicians and staff, mentoring, and creating avenues for career development
Wellness: Mitigating psychological distress associated with bias or discrimination
We're very appreciative of the robust enthusiasm from our amazing DEI subcommittee members; many of our subcommittees have grown substantially within the past few months! Through our educational discussions and significant initiatives, it is our hope that DEI stays embedded in all the work that we do – in the OR, clinic, and beyond. We must remain dedicated to our DEI mission, and understand that the structure needs to evolve like an ecosystem; we're all in this together. To that end, as we strive to strengthen all aspects of inclusion both within our department and beyond, support from the DOS community is critical.
Email us at dei@bsd.uchicago.edu if you're interested in joining one of our subcommittees!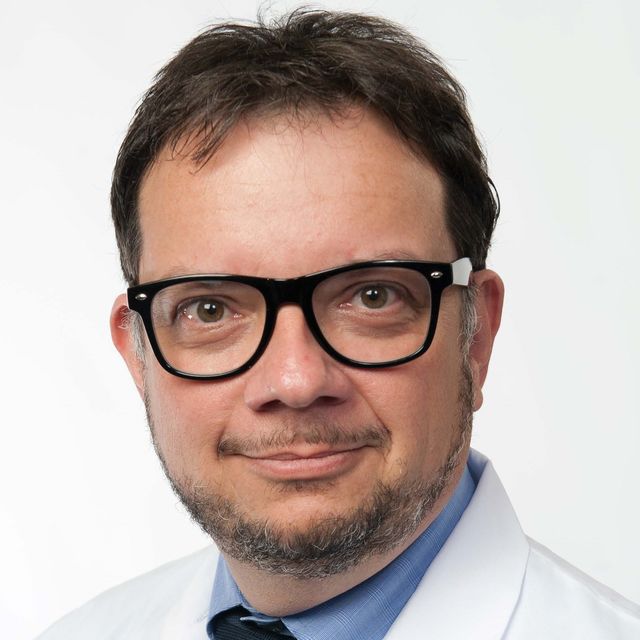 World-renowned Gender Affirmation Surgeon Joins the Department of Surgery!
Dr. Ervin Kocjancic joins us from University of Illinois at Chicago, where he was Professor of Surgery. He specializes in pelvic health, Urinary incontinence, and reconstructive Urology. Dr. Kocjancic is an international expert in gender affirmation surgery. In collaboration with multiple UChicago subspecialties, he will expand the Gender Affirmation Program at UChicago, launch an LGBTQ+ friendly urology clinic, and revitalize the UChicago cancer survivorship program. Welcome to the Department of Surgery, Dr. Kocjancic. We're lucky to have you!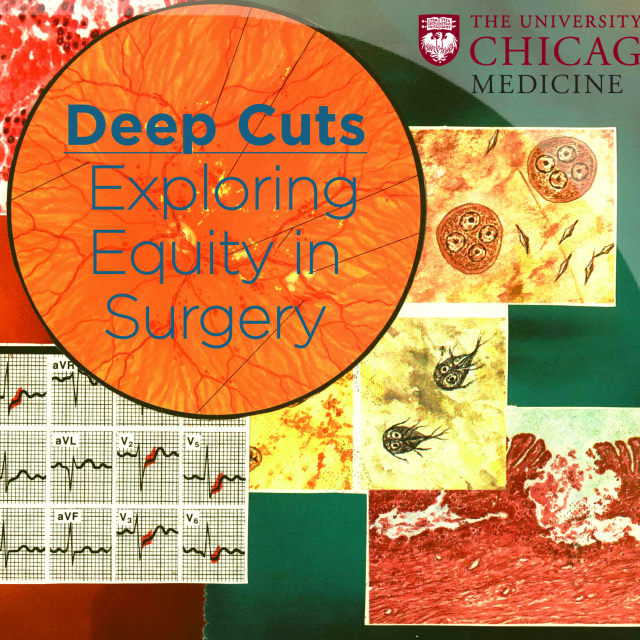 The Department of Surgery Gets "Deep" with New Podcast!
What are the conversations happening in and outside of the operating room, between surgeons, that matter to patients? Our Surgery residents have seen how attitudes and biases towards marginalized people lead to poor health outcomes. Bringing these conversations between surgeons outside the operating room, Deep Cuts is the newest podcast from The University of Chicago Department of Surgery exploring why diversity, equity, and inclusion matter in surgery, and how these topics impact the patients and community served on the South Side of Chicago. You can check out the podcast here!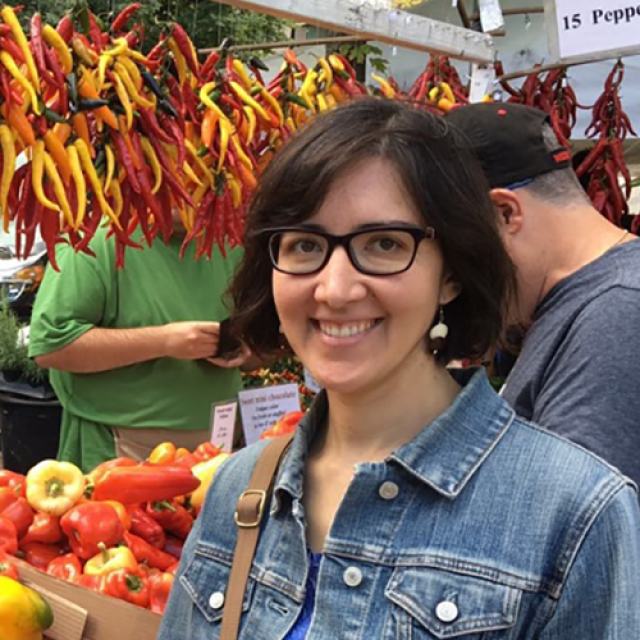 STEM-Out Mexico Program
Since 2018, Sonia has organized the annual Science, Technology, Engineering, Mathematics and Innovation Outreach (STEM-Out) Mexico program, funded by the Provost's Global Faculty Awards, which provides training for UChicago graduate students and postdoctoral fellows in STEM communication and outreach in an international environment.
STEM-Out Mexico has opened opportunities for UChicago graduate students and postdocs to get formal training in how to develop and implement scientific curricula in an international setting. Sonia knows from her own experience the positive impact these opportunities have in the professional career of scientists. She has been able to strengthen her resume, develop new collaborations, attract resources, among other relevant impacts in her career.
"International collaborations have already resulted in a Mexican PhD student contributing to a research project in my lab, recruitment of a postdoctoral fellow, and generating new questions and approaches to research that would not have been possible otherwise."